In the dynamic landscape of real estate, the pivotal factors factors driving sales activity becomes crucial knowledge. According to Lawrence Yun, Chief Economist of the National Association of Realtors, the current sales momentum hinges on two key elements: inventory availability and mortgage rates. Amidst this backdrop, homeowners are relishing substantial wealth gains from recent appreciation, maintaining a positive outlook on the market's resilience. He also stated "Most homeowners continue to enjoy large wealth gains from recent years (of appreciation] with little concern about home price declines."
July 2023 followed the expected seasonal pattern of a slight slowdown after the bustling spring selling season. Sales volume and median home prices in July dipped compared to June, which typically marks the year's zenith in statistics. However, bucking the recent trend, July 2023's median sales price exceeded the previous year's figures. This resurgence was particularly noticeable in regions with robust second-home markets, accustomed to vibrant summer real estate transactions. As summer transitions to autumn, the post-Labor Day selling season kicks in, extending through to winter's edge and providing opportunities for both buyers and sellers. It's worth noting that real estate activity persists throughout the year.
The past 12 months leading up to July witnessed a striking shift – a million fewer homes entered the market compared to the prior year. This change, coupled with resurging buyer demand since late 2022 and the enduring interplay of affordability influenced by interest rates, has sculpted today's market landscape. Notably, the scarcity of available properties has emerged as a driving force behind the notable 2023 rebound in home prices.
This report takes a deep dive into nationwide real estate trends, encompassing home prices, listing inventory, sales volume, days on market, all-cash transactions, and international homebuyer activity. Additionally, it dissects vital economic indicators like interest rates, inflation, stock market trends, and mortgage delinquency rates. Beyond the numbers, it offers insights into demographic shifts, featuring recent statistics on population migration.
It's essential to bear in mind that a national report presents an overarching view of sweeping trends across diverse regional submarkets, each characterized by distinct values and market dynamics. National data on August sales should become available in the third week of September.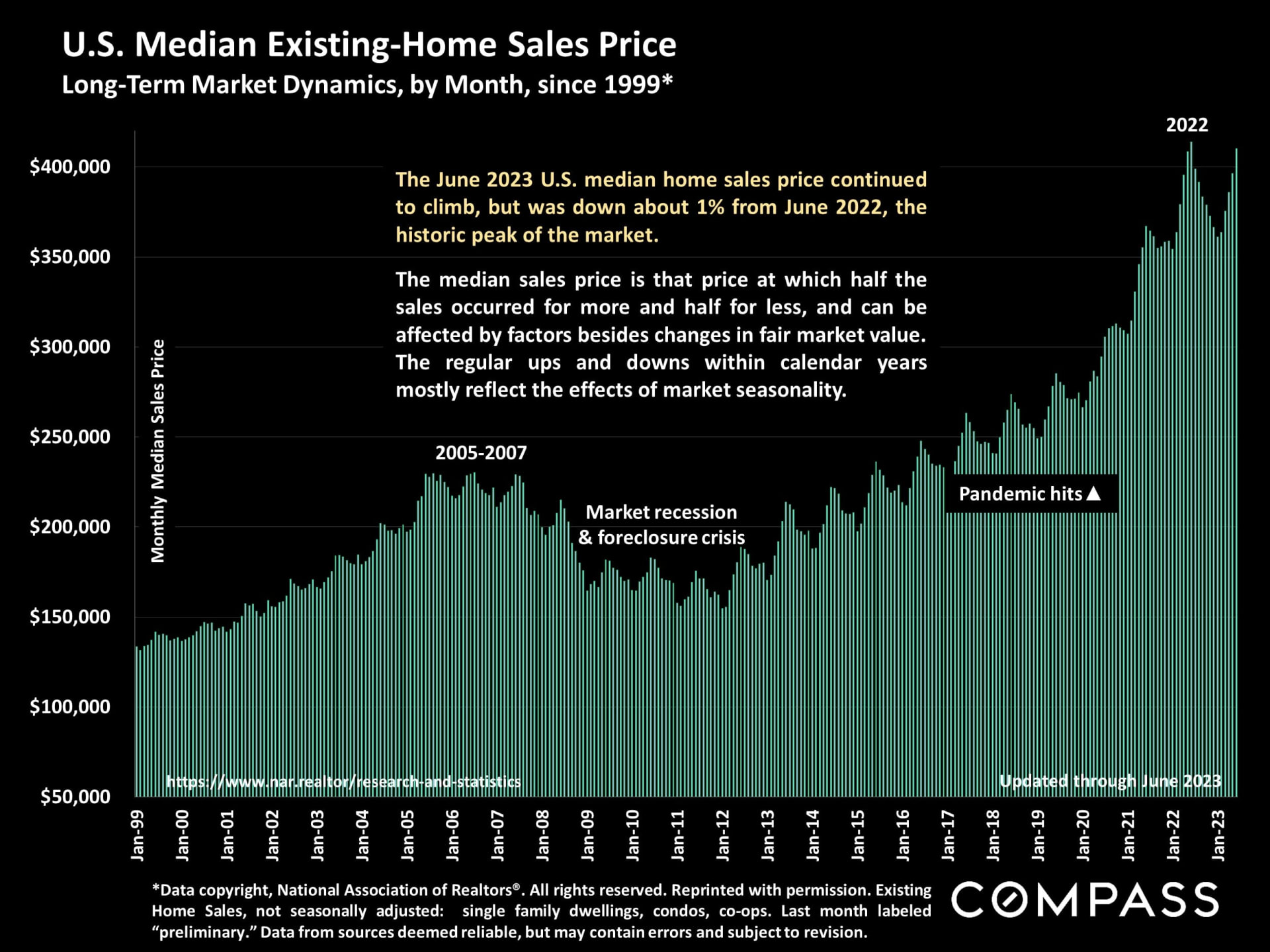 Over the extended period spanning from 1990, there has been a consistent trend in national median home sales prices. In July 2023, the median price experienced a minor decrease from the previous month but demonstrated an increase compared to July 2022.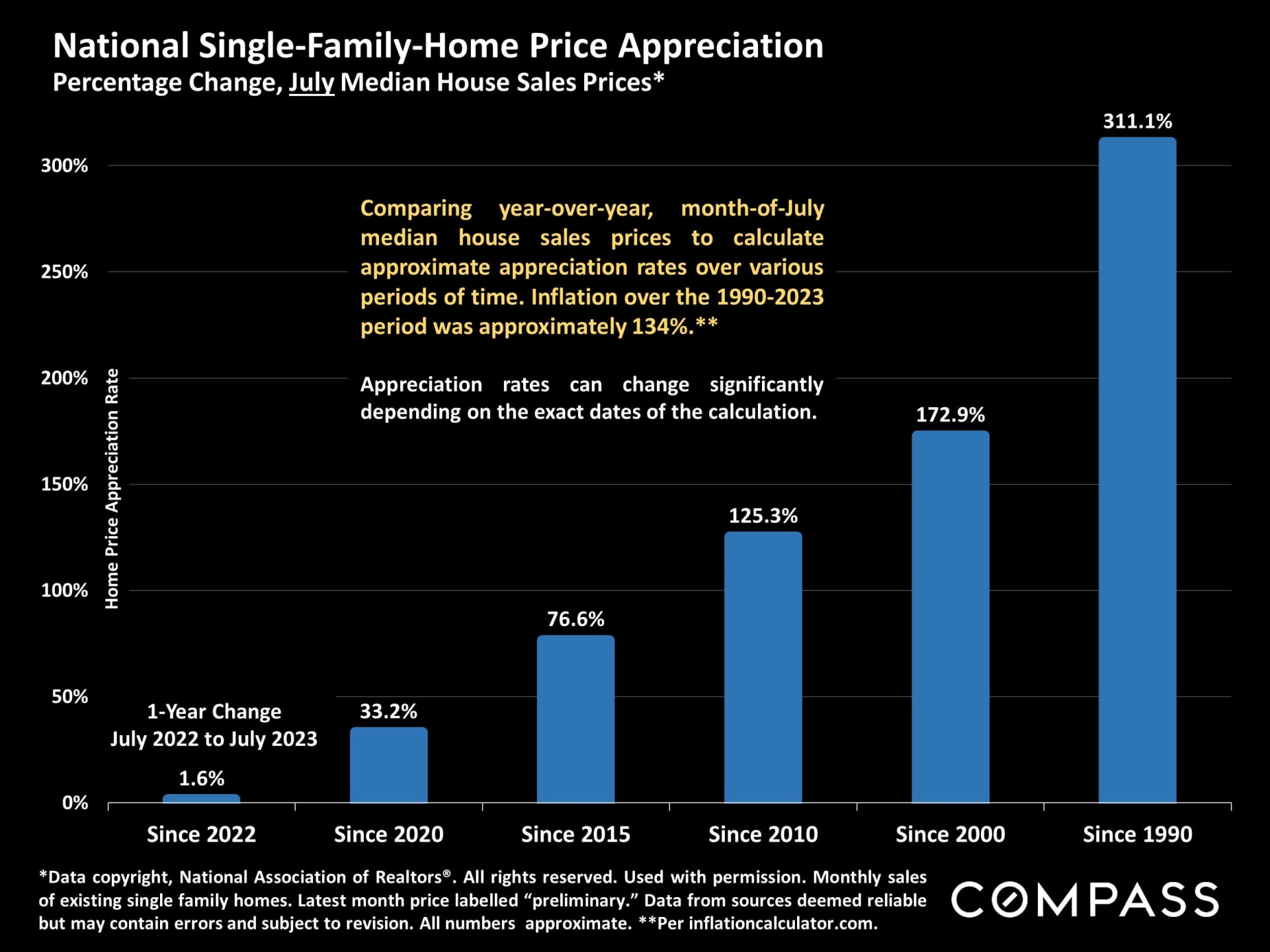 The historic decline in the number of new listings over the preceding year has led to decrease sales volume, and, in 2023, helped to push home prices higher.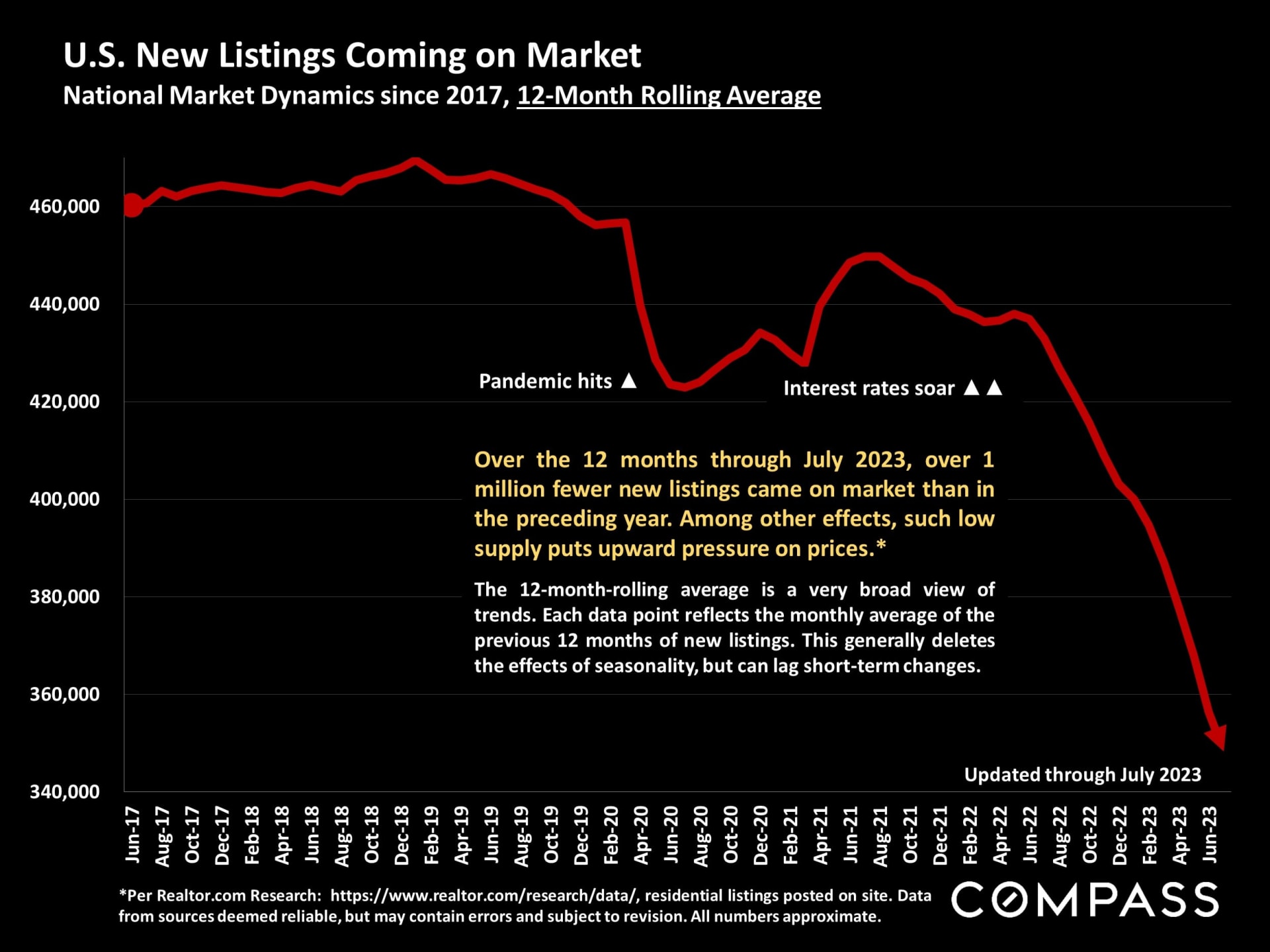 The overall count of available homes for sale remains quite limited, clearly insufficient to meet the existing demand. This supply usually ebbs and flows according to seasonal trends.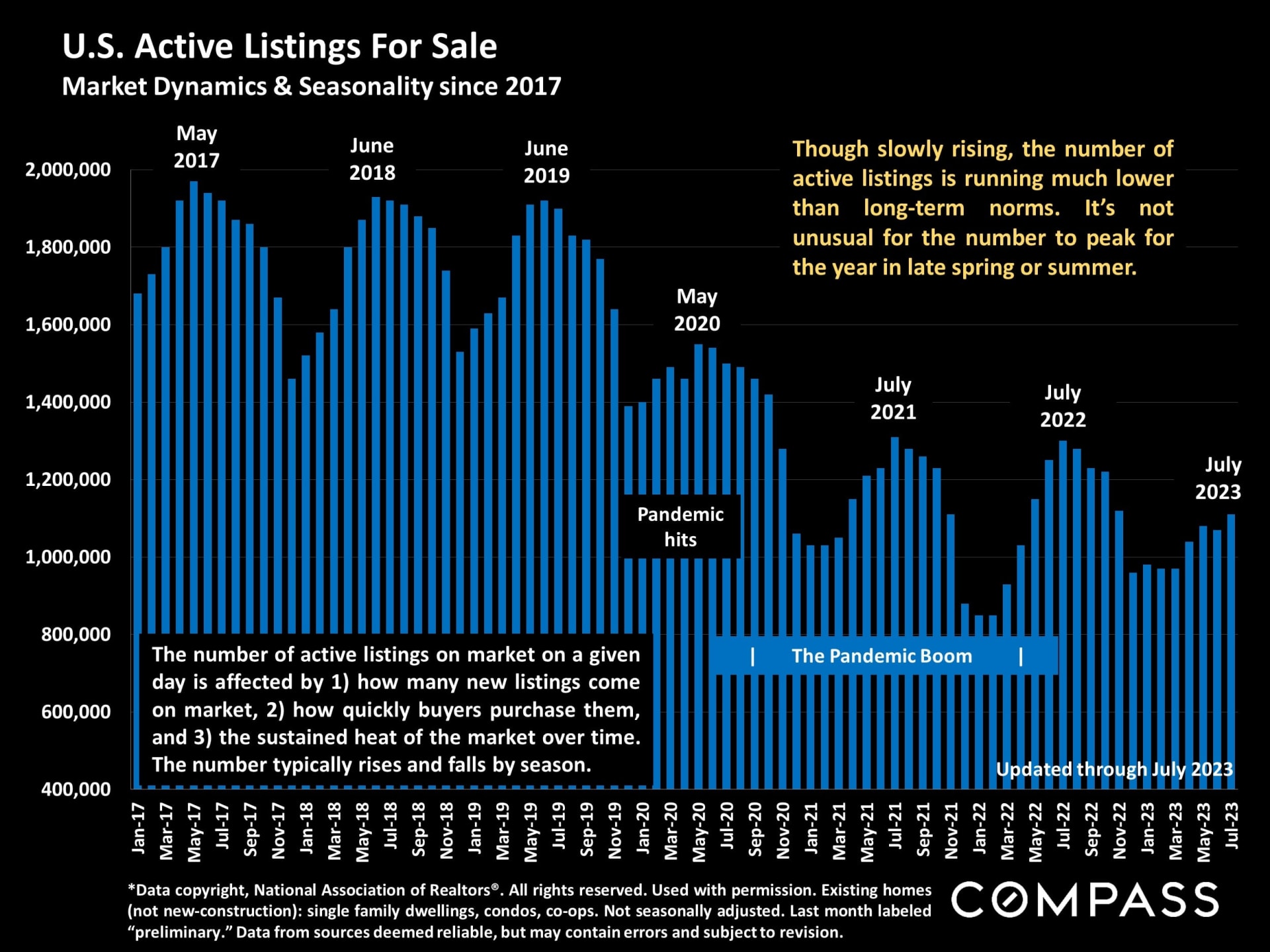 Months-supply-of-inventory compares the supply of listings to the strength of demand: Smaller values indicate more intense and competitive market conditions.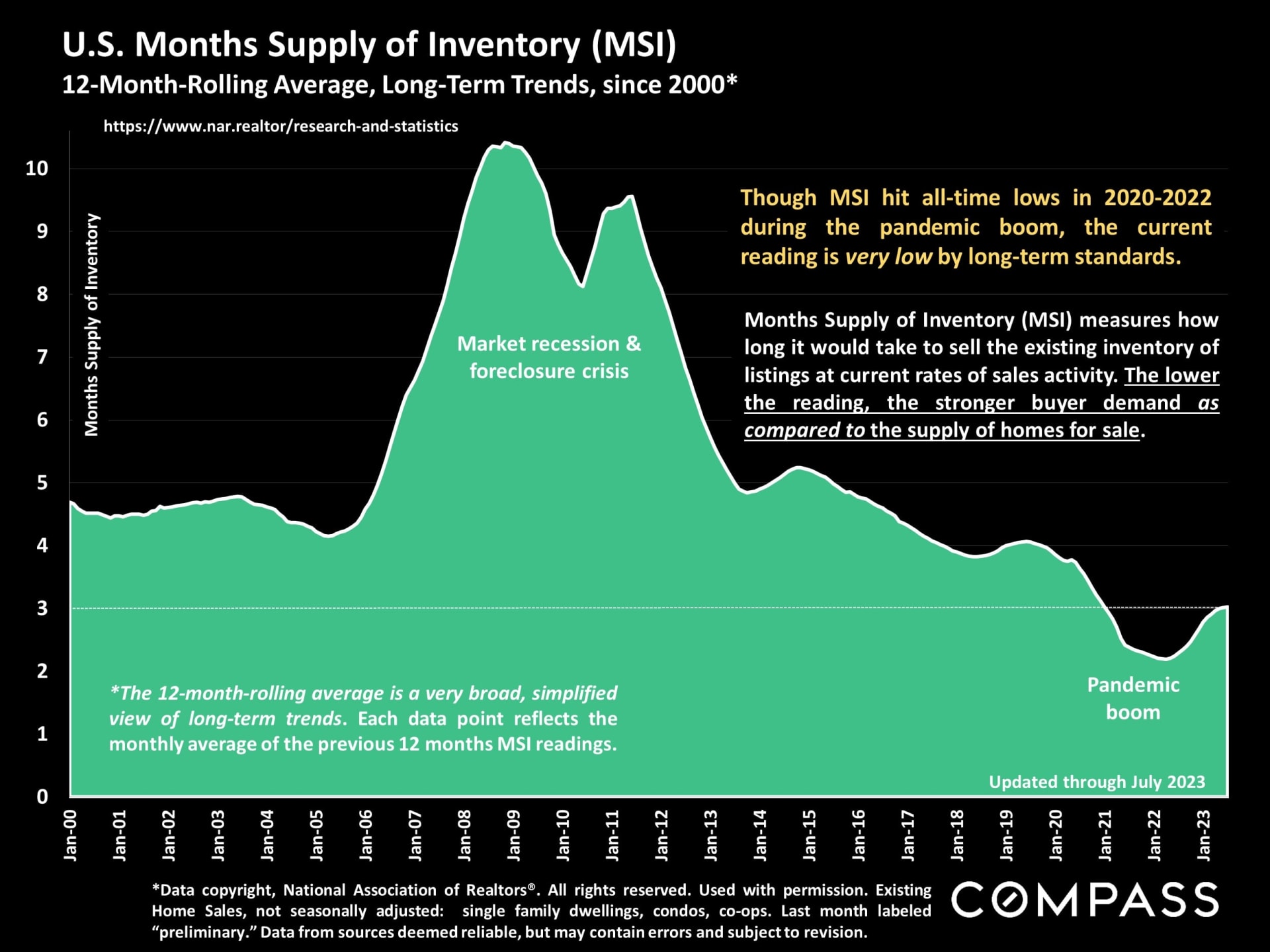 Buyers who opt for all-cash payments are less or not at all affected by interest rates. In terms of the buyer composition, they have exerted a greater influence on the 2023 market.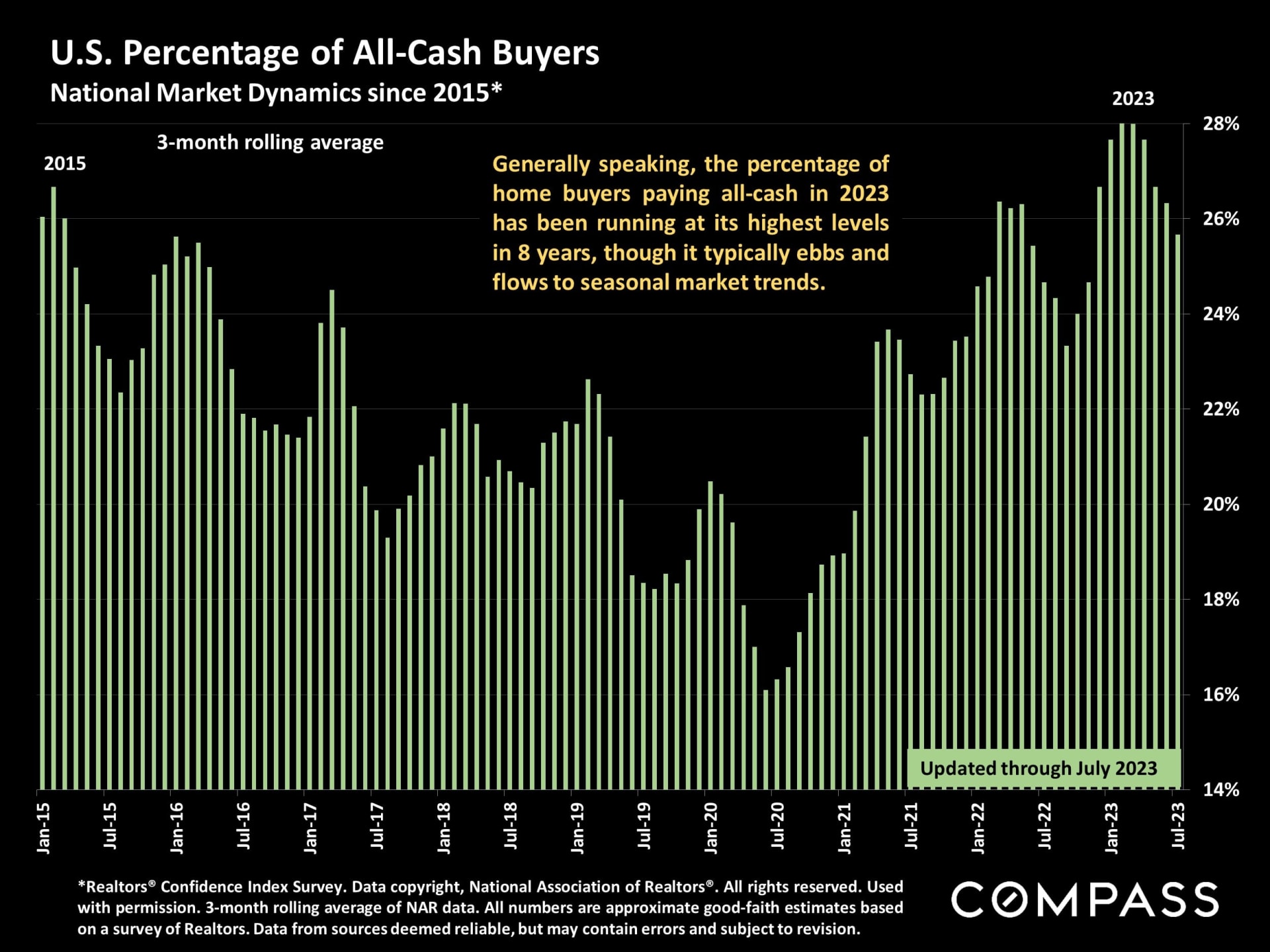 The significant decrease in new listings entering the market coupled with elevated interest rates has led to a substantial reduction in the monthly volume of home sales.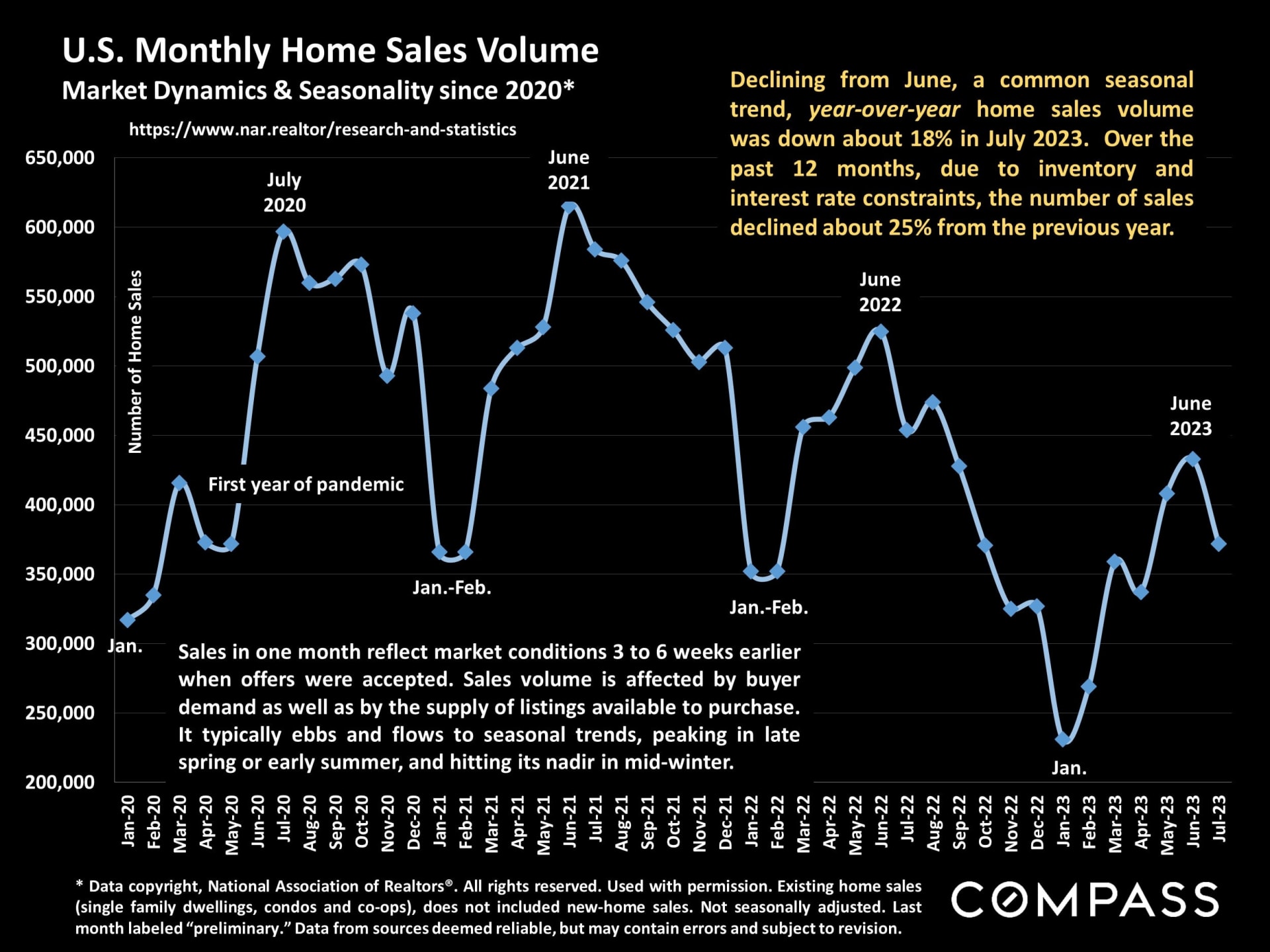 Rising demand in contrast to a limited inventory of homes available for sale results in heightened competition, leading to an increased number of offers for attractive new listings.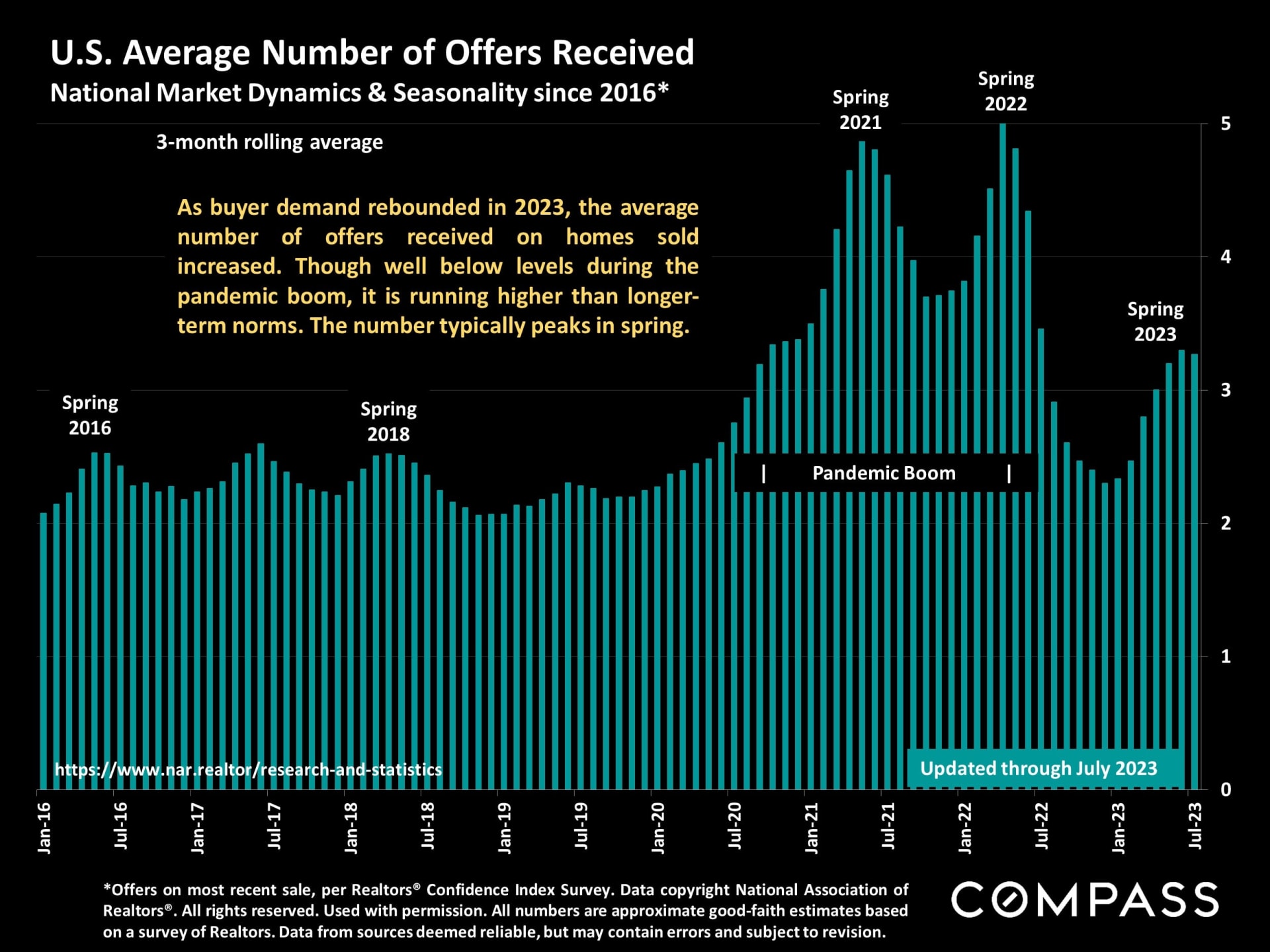 The duration a home spends on the market, which signifies how quickly sold homes secure contracts, serves as another prominent gauge of demand intensity and continues to be notably brief.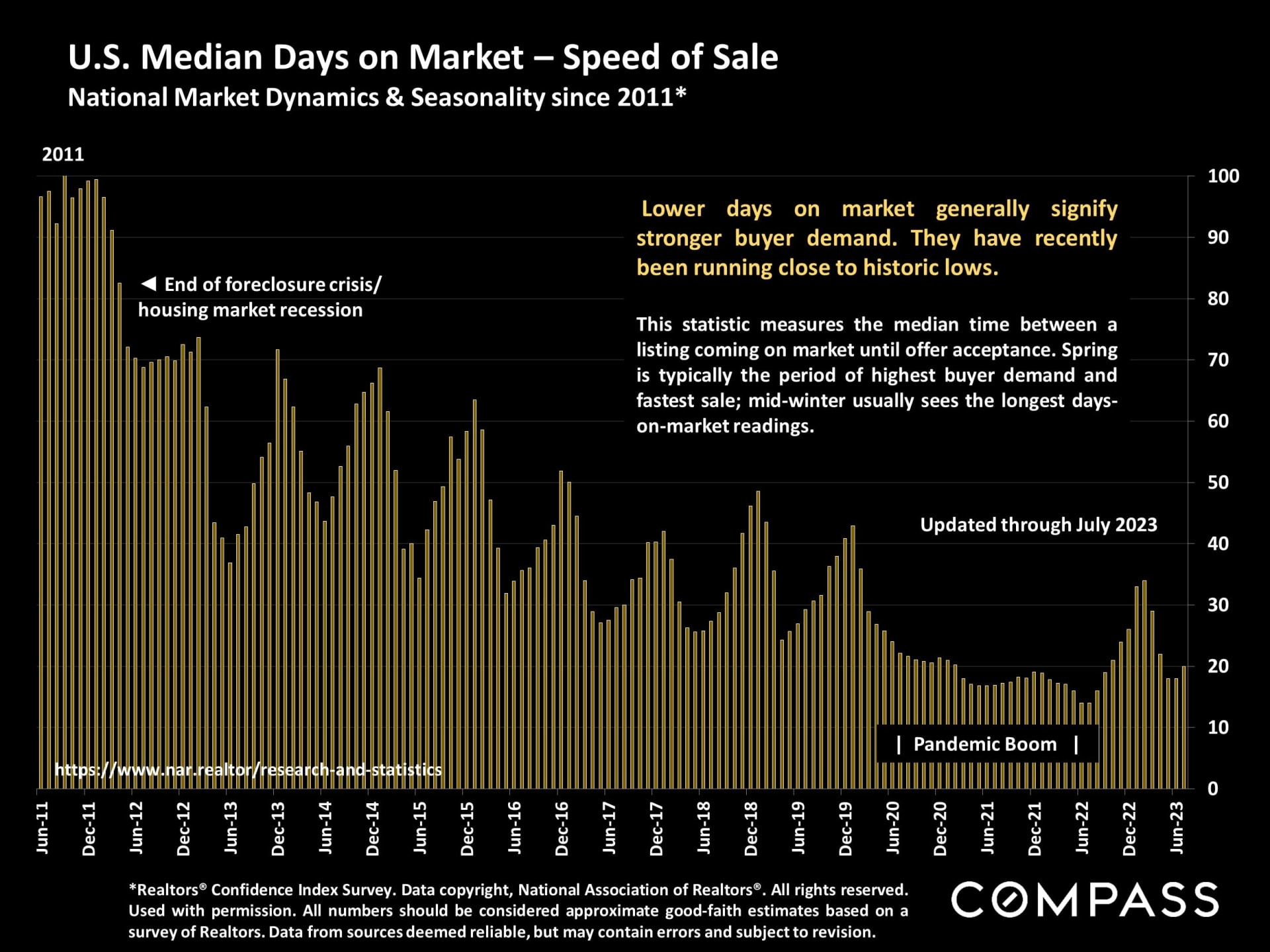 Population migration has emerged as a significant factor influencing the market in recent years. The map provided by the U.S. Census displays the percentage changes in state populations for the years 2021 to 2022.